Some buns that have come out of the oven this week...
Back to School

In an earlier post I wrote about finding an old bottle/can dump at the base of a hill beside the sea. Scattered about were interesting things that looked like they had been tossed there at least a couple of generations ago. I rescued a crackly old piece of brown vinyl that was probably once a school bag. The children scampering across the bag reminded me of characters I had seen in vintage Greek schoolbooks called alfavitaria, for learning ABCs (or ΑΒΓs, in this case).

There is a charming little girl with a lunchbox and braids, a little boy carrying a palette and paintbrush, and a happy frolicking dog. Their tracks lead back to a little shop upon which can still be faintly made out the word Artopoleion (that's Greek for bakery). My husband and I think the bag is probably from the 1960s.
It was all curled up and very fragile, and in a couple of pieces. I softened them with the heat of a blow-dryer (from about the same era!) and was able to get them flattened without breaking them. I mounted them onto an old driftwood board, painted blue long ago. The pieces fit perfectly, an imprinted line on the vinyl even matching up with a similar one on the board. Finally, I gave the vinyl and the little steel buckles a coat of Renaissance Wax so that they don't deteriorate any further.

I doubt anyone would appreciate this piece as much as I do, so I think I will hang it in my studio to remind me of our outing by the sea.
Blue Heart Earrings

I really enjoy playing with wire and the evenings usually find me wrapping rocks and shells at our little living room/dining room table. This time I bent some little shapes and soldered them closed. They needed something more, and I happened to have one small package of cobalt blue polymer clay that I splurged on last winter. It was just the right color to fill in my slightly wonky copper hearts.
Raffia Snail

I find empty snail shells often when I'm rambling or working in the woods. I've also witnessed snail lovefests after the autumn rains, when the little beauties emerge from their subterranean hideaways for mating, usually in large clusters, on the surface of the damp earth. They are prime prey for villagers who fan out through the olive groves as soon as the rain lets up, picking them up by the sackful. They feed them on flour for a few days, rinse them of their ubiquitous slime (great for the skin, by the way) and cook and serve them in many delicious ways. We like them with spaghetti and home-made sauce.

This little snail didn't suffer that fate, but stayed in the woods to be bleached by the summer sun. I fell in love with its delicate colors and pattern so I wrapped it in a net of raffia. I really like how the natural fiber circlet sets off the shell's spiral.


Learning to Weave
I love baskets, so close to the earth and to the hand. My husband and I have a lot of really beautiful old baskets woven from local twigs and reeds. One of the most charming products of our island, these hand-woven baskets were used in our annual village olive harvests. They were made long ago by a local master using wild-harvested split reeds and a shrub called "ligaria" whose root word means supple in Greek. In Latin the reed is called arundo donax and the shrub is called vitex agnus-castus.

These baskets were toted through the olive groves by the village women who collected olives from the ground while singing, laughing and sharing the latest gossip. Just ahead of them, the men threshed the olives from the trees with long chestnut poles. When my husband Giannis was a youngster, he gathered olives with the women alongside his mother. He and I still use baskets like these for harvesting windfallen olives in our mountain olive grove.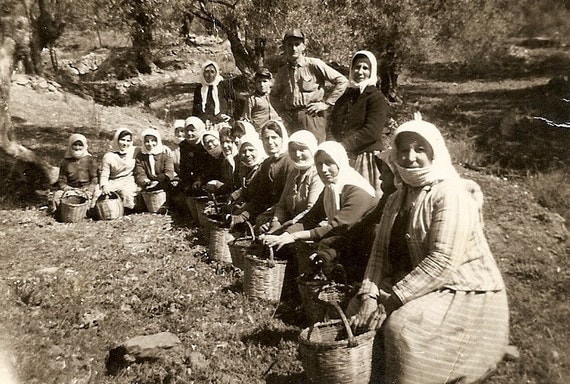 We decided that we better try our hand at this ancient craft because it is so intriguing and we have all the materials we need right here. So yesterday morning we hopped on our Kawasaki and headed for a seaside estuary where rushes grow.
We brought home a bundle just to try them out (these particular plants were traditionally used to make baskets for straining cheese). For bigger baskets, we'll take another trip just outside the village to collect ligaria and giant reeds.
Here is the result of Giannis' first try at basket weaving, with its uprights still unresolved. I'm very proud of him! I just love the color of these rushes and I hope it doesn't fade away.
Where the Forest Meets the Sea

Ideas often come to me in the morning before I completely wake up. When I am still in a half-dreaming state, I start thinking about art and jewelry and all of the things I have collected. They float around in my unconscious and then flash in my mind as completed pieces, which I never would have thought of in a waking state. This little olive tree came to me that way a few days ago.

Its trunk is a gnarly piece of olive wood that has been sculpted by the sea. On top of that I mounted a sea sponge that I collected from a beach (the one where we got the rushes). I found a craggy seastone with a tiny hole in it that matched up nicely with a hole in the base of the trunk. I pegged them together and planted the little bonsai tree in a pinched pottery dish filled with beachcombed pumice pebbles. The dish was made of clay that I dug at an estuary by the sea and fired in a wood-burning kiln, which we built on a mountainside a few years back.
This piece reminds me of olive trees tenaciously growing on the rocky seashores in the most seemingly uninhabitable places.